Over the years trends in landscaping have come and gone so it makes perfect sense to redesign your garden and patio with long lasting value in mind.   Renovating your garden, patio or driveway is a big undertaking so it's always a good idea to call in the experts to give you some advice on which products to use not only for their beauty but also for their practical long sustainability.
We, at @Rockpros, have found over many years of landscaping, that using sustainable rocks, flagstone, quartzite and many of our other hardscape products has stood the test of time and allowed our customers to enjoy their designs year after year.   Once you have designed and built a garden or patio with our beautiful stones all you will need to do year after year is upgrade and change out the odd shrubs, flowers, and trees.   Your basic structure will always remain eye catching and maintenance free.
There are so many styles you can choose to go with from the romantic English Garden layout to the Modern, stark and structured designs.   You can decide to go with wild border shrubs or plan a sustainable desert look that takes care of itself year after year.   Either way the beauty will be in the #rocks,#flagstone, #bark and #quartzite you work with.
Life has become so jam packed that it leaves very little time for relaxation and decompressing.  A great feature to add to your home is a waterfall.
Waterfall Designs
Designing a waterfall as a corner feature on your patio or a central feature in the garden will always be a talking point in your home.   One of our most popular looks is to use a combination of #Quartzite and black #Robin Egg River Rocks as an eye catching feature for the water to tumble onto.   This feature will create a welcoming, peaceful spot for you to relax and rejuvenate.
Low Maintenance Landscaping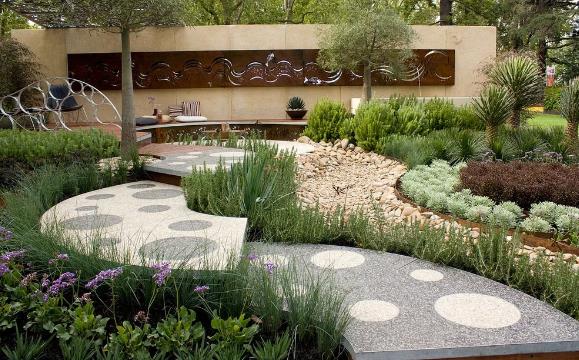 Another design to consider is Rock landscaping.   We have a huge selection of magnificent, show stopping #rocks and boulders for you to work with.   Landscaping with rocks is the perfect solution to save on water, and not have to worry too much about the climate.   The rocks will always look beautiful and you can add a few evergreen shrubs in between your feature.   The combination of textures and colors will be eye catching to say the least.
As far as the fillers are concerned, we at @Rockpros have one of the largest collections of bark, colored bark, sand and mulch to add to your surface once the main design is done.   These various soft textures can add brilliant color and interest to the final garden landscaping and can be replenished year after year if a few touch ups are needed. 
All round you won't regret deciding to landscape with our beautiful collection of rocks, boulders, bark and mulch.    Come in and visit and chat to our friendly staff who are always interested to help with your designs and bring them to life.
Rock Pros
2920 Lesvos Court Lincoln
CA 95648
(916) 409-5051